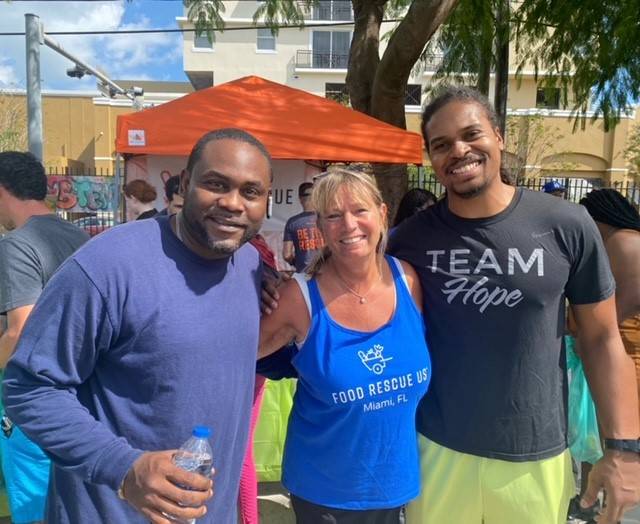 For this month's Give and Grow campaign, we're thrilled to partner with the South Florida affiliate of the national non-profit organization, Food Rescue US.
Using app technology, volunteer rescuers rescue unused and unsold food from restaurants, hotels, events, and markets and direct delivery to local shelters, community kitchens, and food insecure. Last year, they rescued over 2 million pounds of edible food, preventing it from being thrown into dumpsters and landfills where decomposing food contributes over 24% of the harmful greenhouse gas that causes climate change.
We recently spoke with Miami local and location director of Food Rescue US South Florida, Ellen Bowen. Learn more about this incredible partnership below. Visit here to donate to the non-profit.
How did you get involved with Food Rescue?  I also have a food blog, MIAbites and kept hearing from chefs about food waste, especially at events. I researched online and found CT based Food Rescue US that was rescuing food by using an app and I reached out. That was 3+ years ago and as of today, we have rescued over 2.2 million pounds of edible food and is the most successful Food Rescue US site..
Why is Food Rescue such an important cause? 40% of all food is wasted, yet 1 in 7 go to bed hungry. Additionally, decomposing food in landfills produces methane gas, a powerful greenhouse gas that impacts our climate, so Food Rescue is important not just to feed the food insecure, but also to help the environment.
How many restaurant/food vendors are you partnered with? We have over 155 food donors including markets, restaurants, hotels and even Hard Rock Stadium. There are also more than 500 volunteer rescuers!
Which restaurants in Miami have been the most helpful to work with? Marcus Samuelsson and Red Rooster Overtown have been partners now for over 2 years. They also provide rescued Sunday brunch items to families who are living at Ronald McDonald House while their children undergo cancer treatments. Chef Peter Vauthy at Red South Beach and Michelle Bernstein of Cafe La Trova all donate food to those less fortunate and Seniors.
How can people/restaurants volunteer? All of our rescues are posted on our website which can be added to the homescreen as an app. Interested volunteers can register on foodrescue.us. Most rescues take less than an hour door to door and are easy and fun to do.
Are there any projects at Food Rescue Mission you're currently working on that you'd like to share?  We try to provide food distributions once a month at various locations as a free/walkup food giveaway. Food is donated from a number of big markets and we consolidate to offer as a Farmers Market set up. We also are working with Hard Rock Stadium to rescue after both the Miami Open Tennis and Formula 1.
What do you love about working with Food Rescue Mission? Saving the environment and feeding the food insecure are what is most important. However, I sincerely appreciate the personal interactions between our volunteers and the food donors. It makes 'giving back' very special and rewarding. We have created a real community interconnecting volunteers with food donors and those in need, which is a beautiful thing.