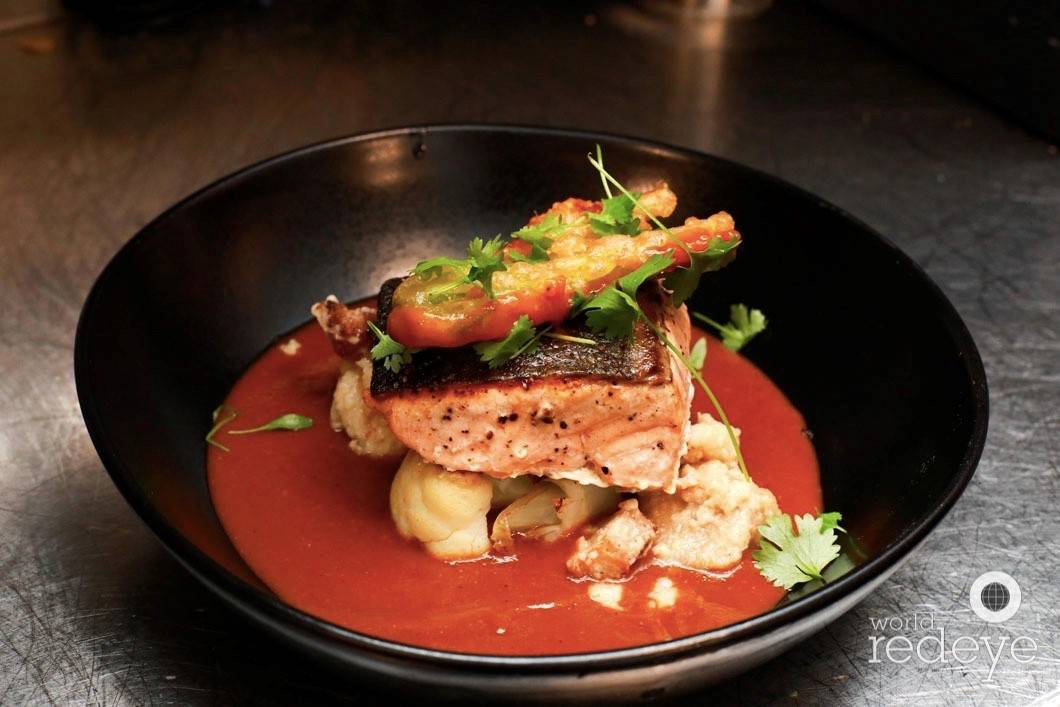 Photo credit: World Redeye
Grilled Crispy Skin Salmon, roasted cauliflower, Oaxacan yellow mole.
This is a great dish for Valentine's Day even though the mole Amarillo is a rather difficult recipe, it is one of the simplest moles of all. The slightly acidic, fruity and nutty flavors pair perfectly with the richness of grilled salmon.
Serving Size: 4
Ingredients:
¼ cup olive oil
2 pounds salmon filet with the skin on
2 cups mole paste
1 to 2 cups chicken stock
Garnish:
½ cup crushed roasted cashews
1 cup chopped cilantro
8 lime wedges
Ingredients For the Mole:
(Makes 2 quarts of mole)
1 cup lard or light olive oil (lard is very traditional in the preparation of mole and the sauce will not taste the same without it)
1 medium sized onion rough chopped
8 garlic cloves
1 or 2 Jalapenos stem removed and rough chopped
¼ cup ancho chile powder
2 pounds tomatillos quartered
½ cup golden raisins
8 dried apricots
½ cup roasted cashews
2 whole cloves or substitute a small pinch of ground
2 whole all spice berries or substitute a small pinch of ground
2 tablespoons cumin seeds
2 cups yellow corn masa (dried corn flour for making tortillas)
1 quart chicken stock
1 tablespoon kosher or sea salt
Preparation Method:
Heat a heavy bottom wide sauce pot over medium high heat, half of the lard or olive oil, Next add the onions and garlic and cook until they are lightly browned, add the corn masa, spices, chile powder, dried fruits and cashews and continue to sauté for about 5 minutes. Add the masa and tomatillos reduce to medium heat and continue cooking for about 10 minutes stirring frequently. Add the chicken stock bring all ingredients to a simmer for 10 to 15 more minutes until the tomatillos are soft and cooked through. In small batches puree the mixture in an electric blender until smooth.
Refry
Refrying is a common technique used in Mexican cooking, especially for sauces and moles, and even "refried beans". Heat a deep heavy bottom stock pot, with a lid, over medium high heat, add the remaining lard or olive oil and let it get hot. Carefully pour in the mole sauce and quickly cover with the lid. The sauce will boil rapidly like hot lava, reduce to low heat. Carefully remove the lid to stir so the sauce does not burn. Once the sauce slows to a simmer let it cook for 10 more minutes. Season with salt to taste and reserve.
To Prepare the Salmon
Season the salmon filets with salt and pepper on both sides. Heat a heavy bottom skillet over high heat. Add 2 tablespoons of light olive and place each salmon filet skin side down until the skin is crispy and brown then turn the filet over and continue to cook for about 3 more minutes. (Salmon is best eaten when it is slightly pink in the center with the skin on)
For the Cauliflower
1 head cauliflower, stem removed and sliced into 3 thick 'steaks"
2 tablespoons olive oil
2 tablespoons butter
1 tablespoon cumin seeds
¼ cup honey
2 tablespoons lime juices
½ teaspoon kosher salt
Preheat oven to 400 degrees. Heat a heavy bottom skillet over high heat add oil and cauliflower seasoned with salt and pepper. Cook over high heat for 2 minutes, place the skillet in the oven and roast for 5 minutes, remove the pan from the oven back to the stove over high heat. Turn the cauliflower, sprinkle with cumin seeds, drizzle with honey and add butter to the pan. Return the pan to the oven for 3 minutes. Drizzle with lime juice. Cut each cauliflower steak into 2 pieces.
To Serve
Heat the mole sauce. Ladle about 3 ounces onto the center of each plate, place one of pieces of grilled cauliflower in the center and then a filet of grilled Salmon on top sprinkle with a pinch of chopped cilantro and crushed cashews. Serve with lime wedges and plenty of warm tortillas to make tacos.