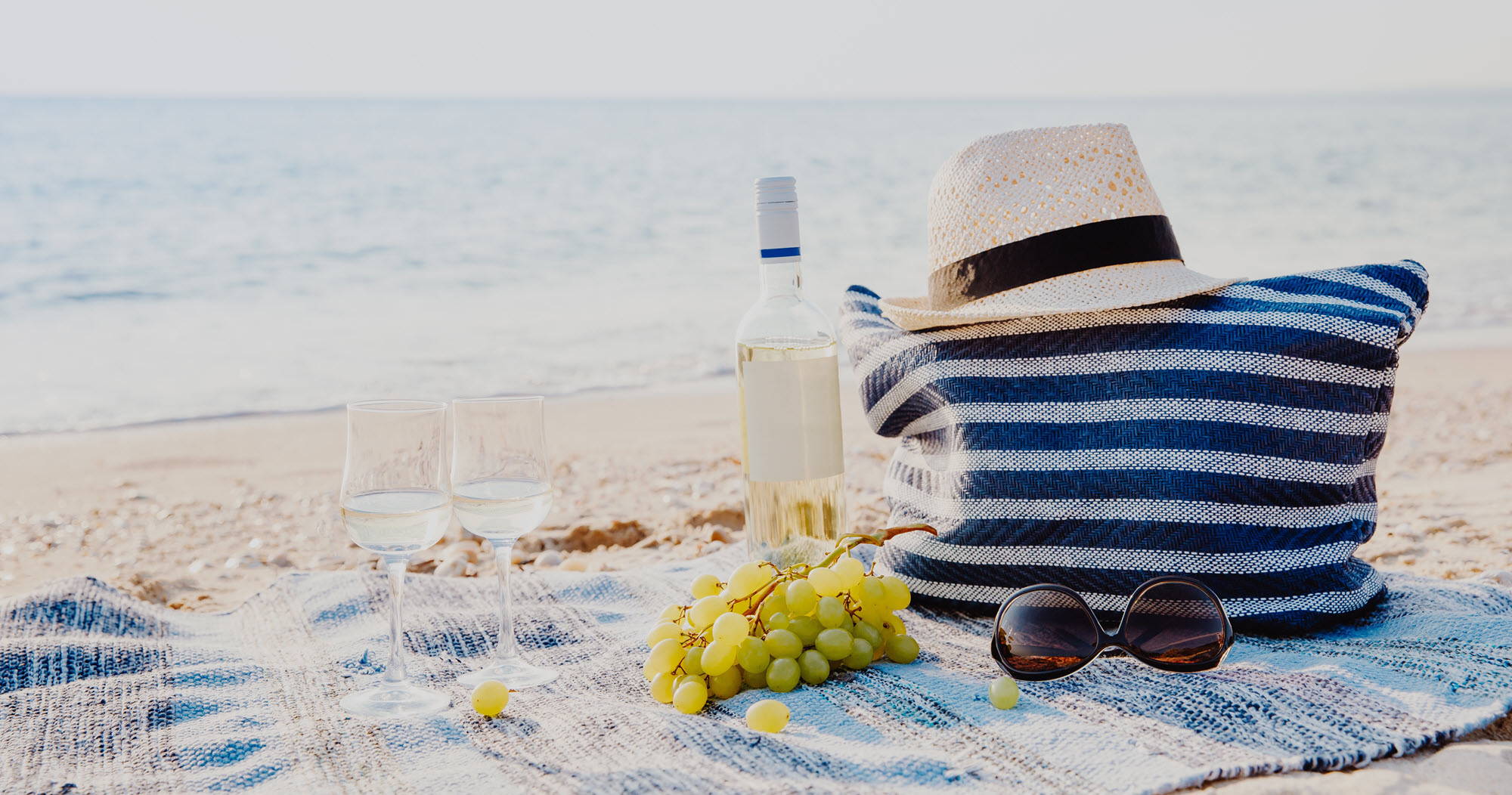 The days of summer are fast approaching South Florida. Most days it feels like summer is already here, but fear not, because we are going to arm you with a few awesome summer sippers that beat the heat and over deliver on quality to price ratio. With thousands of wines available it can be hard to know what type will most fit your palette and style.
Whether you're cooking and looking to pair food with the wine or just looking to take the edge off the heat, white wine can be your friend. There are many misconceptions about how cold white wine should actually be. Cellar temperate in the 1600's, vs cellar temperate in 2021 Miami look very different. A good place to store white wine you're going to consume soon would be the refrigerator, not the freezer. And prior to, keep it in a dark storage place like your pantry closet or on a shelf somewhere out of direct sunlight, as sunlight tends to damage delicate wine over time. Ideally, your Whites should be stored somewhere around 49 to 53 degrees. The wine should be very cool, but not so cold that you cannot pull out the beautiful floral and fruitful flavor notes.
Below are some recommended white wines that are sure to please and delight on a humid summer day:
Prosecco is a sparkling wine classically made from the Glera grape in northern Italy, in the area aptly named Prosecco. The wines are known for their larger but tight bubbles that are created by developing carbonation under pressure in a wine making technique called the Charmat Method. Without getting too technical, think finished white wine held in a stainless-steel tank, adding sugar and yeast under pressure in a safe and efficient way, then bottling the wine after the secondary fermentation occurs. Historically, this would happen in the bottle, like with Champagne, but this method is more economical and allows for bulk production - hence the more reasonable prices for Prosecco. When a bottle is opened it is best to consume it within the same day as the bubbles do not hold more than a day or two. Prosecco is citrusy, with mild honeydew melon flavors and mild lemon peel. The acid is typically medium, and the balance is finished dry. It's a great compliment to pool parties and beach afternoons and mixes well in cocktails and topping sangria.
From dry to our next varietal that bares some high acid sweetness, Riesling is always a good choice. The sweetness is like the natural sweetness from a ripe fruit, versus from ice cream or gelato. And with Riesling, you're also going to get some good acid, just like you would from a sweet fruit. Some flavors you can expect would be nectarines, apricots, ripe pears, orchard fresh apples, with a bouquet of honeycomb, jasmine, and citrus peels, with an ever-present petroleum essence, or as we say "a slight petrol nose." Riesling expressions can be quite sweet, so look for these names on the label in accordance with your preference (less to very sweet order): Kabinett, Spatlese, Auslese, Eiswein, and the rarest and most incredible, albeit pricey Trockenbeerenauslese. This final wine is made from grapes that have been left on the vine and effected by a bacteria named Botrytis, or "Noble Rot." Off dry Rieslings are a great pairing with hard cheeses, pork or duck. It has good acidity, and can cut through high fat dishes. In fact I have paired an off dry "slightly sweet" Riesling with ribeye, and hangar steaks sprinkled with sea salt in the past. It defies old adages but works well for those open to adventurous eating.
Another amazing wine for summer is Albarino which typically comes from Spain or Portugal, although new vine plantings in California and Australia are producing wines that are both complex and easy to drink. If you're reading the labels and hunting a bottle locally, look also for the Portuguese name which could be listed as Vinho Verde and have a slight effervescence to the wine which is completely natural and sought after. Spain's most prolific region to grow this varietal is in the Rias Baixas which gained high status when it was awarded DO status, marking it as the region producing the highest quality and best representation.
This wine comes in a couple of styles, but the most common is dry, and still, highlighting floral and orchard fruit notes on the bouquet. It has a good acid structure but is not super age worthy, so it is best to find a recent vintage to ensure freshness. On the palette you'll find honeydew melon, honey crisp apple, apricot similar to Riesling, lemon zest, but no trace of oaky type notes as in the case with most all three of the other featured wines. This wine is also aged in stainless steel and does not have flavor imparted from American or French oak. The wines tend to be varietally specific but can change slightly in regard to where on the planet they are grown. Albarino pairs well with watercress or watermelon salads, bbq chicken or pork, cheesecake, sorbet, and good friends on beachy days.
Lastly, we get to one of my favorites and honestly most wildly available everywhere on the planet, except Antarctica. But if they could grow it there, I'm sure someone would have tried. Sauvignon Blanc is most common and highly regarded from New Zealand, taking the lion's share of the worldwide sales. More specifically, Marlborough New Zealand, has become almost synonymous with the varietal. Sancerre, France and Pouilly Fume, California have also become well-known quality producers of this wine.
Sav Blanc, as it's known, is a citrusy forward light bodied style wine known for pineapple, passionfruit, but mostly grapefruit flavors. It has high acid, and a low to medium body, meaning it is light on the palette but you know you have wine in your mouth. This varietal has notes of grassy herbaceous tones, and gooseberry, which can sometimes give the illusion as cat's pee. Perfectly natural if not an odd aroma to pick up, but now that I've said it, you'll notice it. I find the best pairings tend to be fish like cod and salmon. But here in South Florida, snapper and grouper are perfect, especially with a little grill smoke. Since the wine already has a natural lemon flavor, you can actually sprinkle a little of this wine into the cooking process with fresh fish. It's a great wine to relax with by the pool, on the balcony, or on the couch bingeing your latest show.