---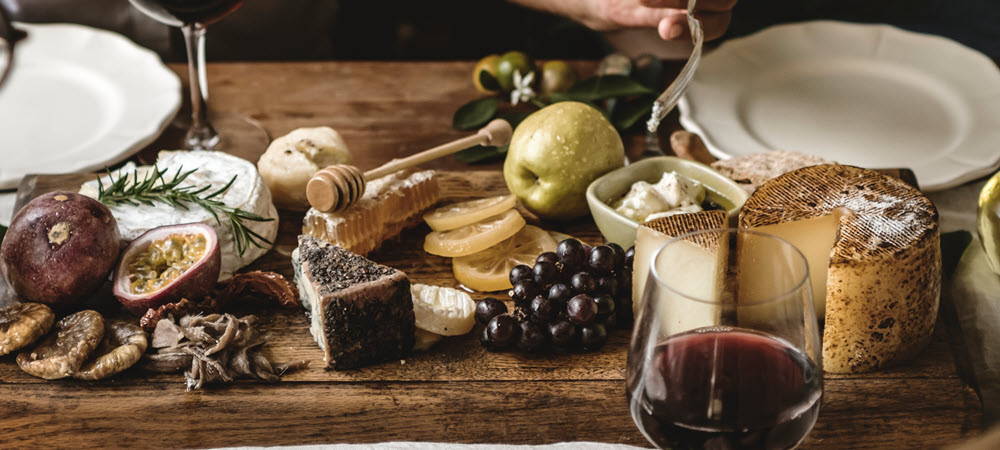 ---
Cheese and wine have long been considered the quintessential pairing. Although wine and cheese parties are common in modern day party planning, good pairing is not as easy as one may be led to believe. The most expensive wine in the world paired with the best cheese in the world can taste less than optimal if they are not meant for one another. How often do you find yourself wondering just which types of cheese should be paired with which types of wine? In fact, pairing these two vastly different items is an art form in some sense. In the following paragraphs we'll give you some hints and tips to pair like a pro.
In general, light cheese should go with lighter style wines, and heavier more tannic wines should go with cheeses of bolder depths and consistency. This may seem like a no brainer, but walk into any good gourmet market in America nowadays, and the vast amount of different cheese can rival the best fromageries of France or Italy. It's impressive to say the least how far American cheese shops have grown onto the World stage, and with so many local cheese artisans creating new and exciting blends and blooms, good cheese is only going to get more accessible.
Cheddar / Gouda & Cabernet Sauvignon / Malbec
The staples of any good party platter tend to be aged Cheddar and Gouda which both pair great with Cabernet Sauvignon or Malbec. Cabernet and Malbecs have a natural tannic structure that holds up well with the toothiness and strong characteristics of Vermont or Irish Cheddars, and beautifully aged Gouda; the two play off each other quite nicely. Wines with a long finish, such as Cabernet Sauvignon or Malbec, demand cheeses with complex flavors that can stand up to that finish, and aged cheddars and gouda tend to be the best pairing for various styles of American or French Cabernet Sauvignon and Argentinian Malbec.
Parmesan / Blue Cheese & Pinot Noir / Barolo
When it comes to the Parmesan and Blue Cheeses, choose Pinot Noir or Barolo. Although blue cheese is considered a strong cheese to most, it is typically a creamy style cheese in which case we would consider it lighter by nature, and a perfect pairing to Pinot Noir and Barolo which itself is lighter in style and showcases beautiful floral characteristics which match the fragrances of both blue and parmesan cheese.
Goat Cheese / Chevre & Riesling / Pinot Blanc
Goat cheeses can be a little more difficult to pair but work well with a dry style of Riesling or Pinot Blanc. The irony, earthy, and tart flavor of Chevre or goat cheese, contrasts to the acid structure of a good dry Riesling or Pinot Blanc. This acid will cut through the richness and sharp flavor of the Chevre, and in turn bring out different fruit flavors in the wine.
Swiss Cheese & Pinot Grigio / Pinot Blanc
Swiss cheeses have a natural pairing with Pinot Blanc and Pinot Grigio. The wines have good medium acidity and come across very neutral when enjoyed on their own. They tend to be a very good appetizer wine to serve with cheese and charcuterie. Swiss cheese has notes of tart nuttiness that bring out the fruit flavors in a Pinot Grigio or Pinot Blanc. With the smooth and creamy texture of a nice Swiss cheese it makes it an ideal pairing with a crisp Pinot Grigio. The pleasantly mild flavor of a properly aged Swiss will mix well with the clean and light tastes of a Pinot Grigio without overpowering the wine, which is what you want in a cheese appetizer. It's recommended just serving Swiss in slices or cubes to bring out the natural flavors of the cheese and wine combo.
Havarti / Fontina & Provence Rose Wine
Another good combination to include at your dinner party is Havarti or Fontina and a dry Provence Rose wine. The crisp dried fruit flavors of a good rose will match well with the earthy briny flavors of the Fontina and Havarti cheese, and the acid structure in the rose will cut through the creaminess of the semi soft cheeses making it a very pleasant pairing. Add some dried cranberries and salty prosciutto to make it a home run. Sparkling wines from Spain and Italy are also a great combination with these cheeses.
---
---
We have made it easy to find matching wines and cheeses with our Wine & Cheese Builder. Each step of the builder contains a curated selection of cheese and wines that pair well for easy selection and a great tasting experience.  
If you prefer to sit back, relax, and let the pros choose your pairings, contact us at info@vecinosmarket.com to explore our Wine & Cheese Experiences where we bring the experts to you.