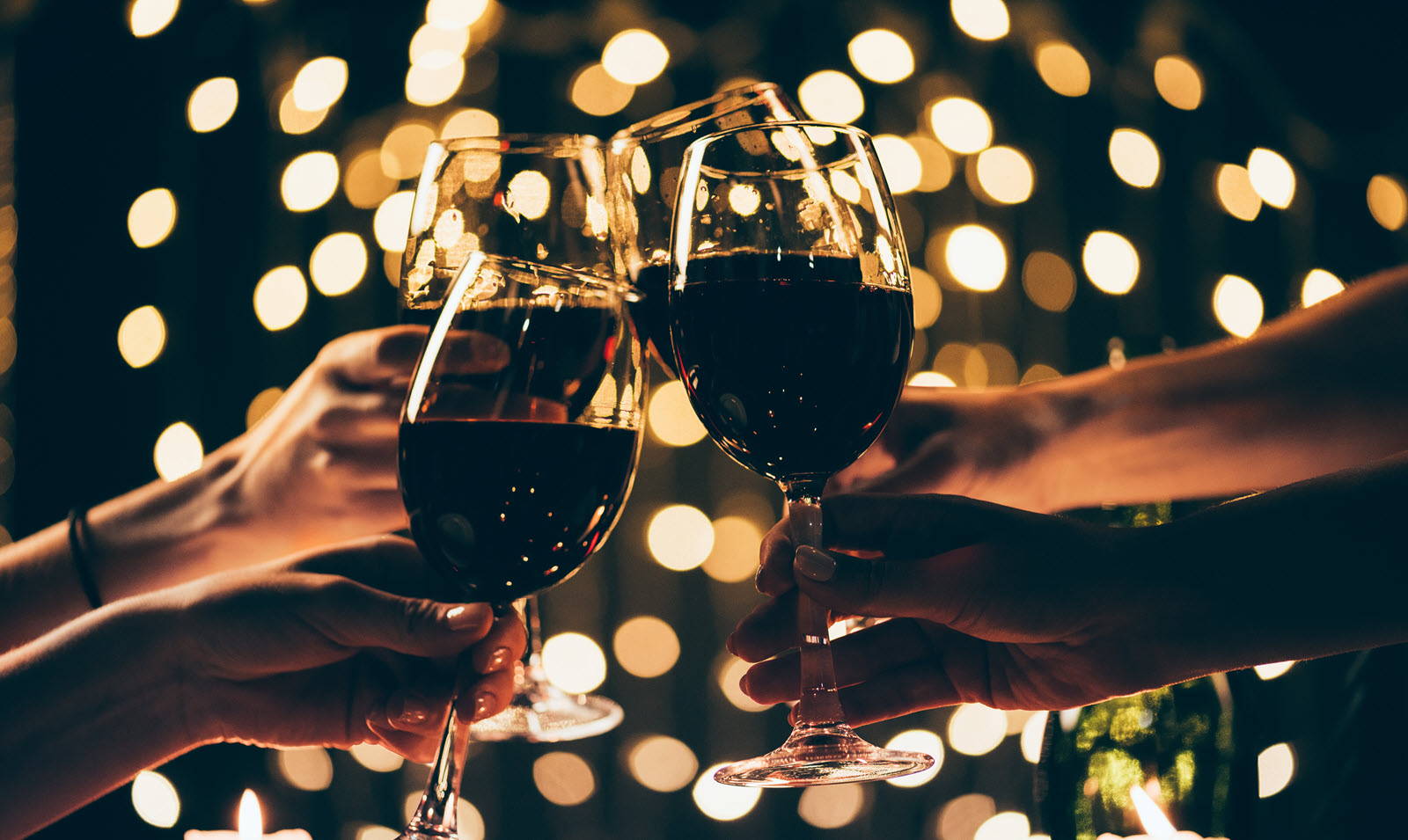 The holidays is a perfect time to gorge yourself and drink beautifully paired wines. Although big heavy reds in South Florida may not suit the weather as well as cold New England evenings, they may still work to compliment your main course, or courses depending on your individual family traditions. This post will serve as a go to safety net, to be sure you have the best wines to pair with whatever you may be making, and how to serve them.
During my family holidays, you knew the party was getting started when the shrimp cocktail came out, and the cheese board was laid down. This is always the right time for bubbly, served very chilled. Prosecco is a good alternative to Champagne based on the price difference and large bubbles that work well with seafood. Champagne on the other hand will work better with a cheese course; the tight carbonation of the Champagne will clean your palette from the fats of the cheese. Another good way to go would be to find a middle ground in the Cava family from Spain. Cavas are similar to Champagne in that both may have been matured in oak, and both go through secondary fermentation in the bottle. Cava has slightly larger bubbles, but very similiar to Champagne and the cost savings makes it very likely you can purchase and serve multiple bottles without breaking the bank while pairing perfectly with all of your wonderful appies.
You'll be looking to Rose wines next as the sure fired veggies and fruits with dried meats course will be coming out soon. Rose wines from Provence are my go-to this time of year. They carry just the right amount of dried fruit flavor with high bright acidity that makes the mouth water. The beautiful pale pink color adds a festive array around the room with everyone swirling their juice and having good conversations. Rose tends to be lower in alcohol also, so you'll be sure your energetic uncle Jimbo or aunt Betty doesn't get too sloshed before the main course makes its appearance. Make sure to have a backup bottle chilled and ready to serve as Rose tends to go down the chute very easily, and adds to the merry making.
When the bird is getting ready to come out of the oven, time to open the Pinot Noir. Pinots from all around the world compliment roast Turkey, Duck, or Goose. I recommend the regions of Burgundy, Willamette Valley, and Sonoma Coast. These regions' Pinot Noirs are delicate, mineral driven, and full of dried violet strawberry, and cedar box perfume. The well-toned acidity makes it a great compliment to help your body's natural ability to aid in digestion by starting the process in your mouth with saliva activation. When the Romans dined for days in Bacchanalia's, they were sure to have plenty of red wine to help them consume copious amounts of food over many days, and you'll want to take a page from their story to help your holiday feast be a success. We've all seen the days when everyone falls asleep in front of the football game, but add a little extra Pinot to the festival and you'll be sure to have a few extra guests make it to dessert.
If you break from the traditional holiday celebration bird and serve red meat, such as Lamb, or Beef Tenderloin, then another great wine that will bridge multiple types of proteins is Spanish Tempranillo from the region of Rioja. I would recommend Crianza or Reserva, as both have excellent acidity and tannic structure without being overly expensive and complicated. These aging classifications will be clearly marked on the label, but Crianza is a young wine with two years of aging, with one year in oak, and Reserva are meticulously selected wines with a minimum ageing between oak barrels and the bottle of three years, of which at least one has to be in barrels, followed and complemented by a minimum 6 months' aging in the bottle. They both are very modest with prices ranging from $10 to $25 per bottle. They are fun wines with bright cherry and cassis notes, with aging traditionally in American oak or older neutral oak. Aromas you'll find are slight notes of coconut and cocoa with red fruit forward delight. Be sure to ask your wine steward, as many Rioja wineries are bringing in the use of newer French oak barrels which will add more cinnamon and baking spice notes, but these tend to have a higher price tag, longer aging, and have higher tannins suited more for roast beef and game.
You arer now set to run the holiday like a professional sommelier, pairing your celebration, course by course with the wines that will complement your excellent feast full of love, and new stories to share with friends and family. Salud!