Mofongo de Carne Guisada Boricua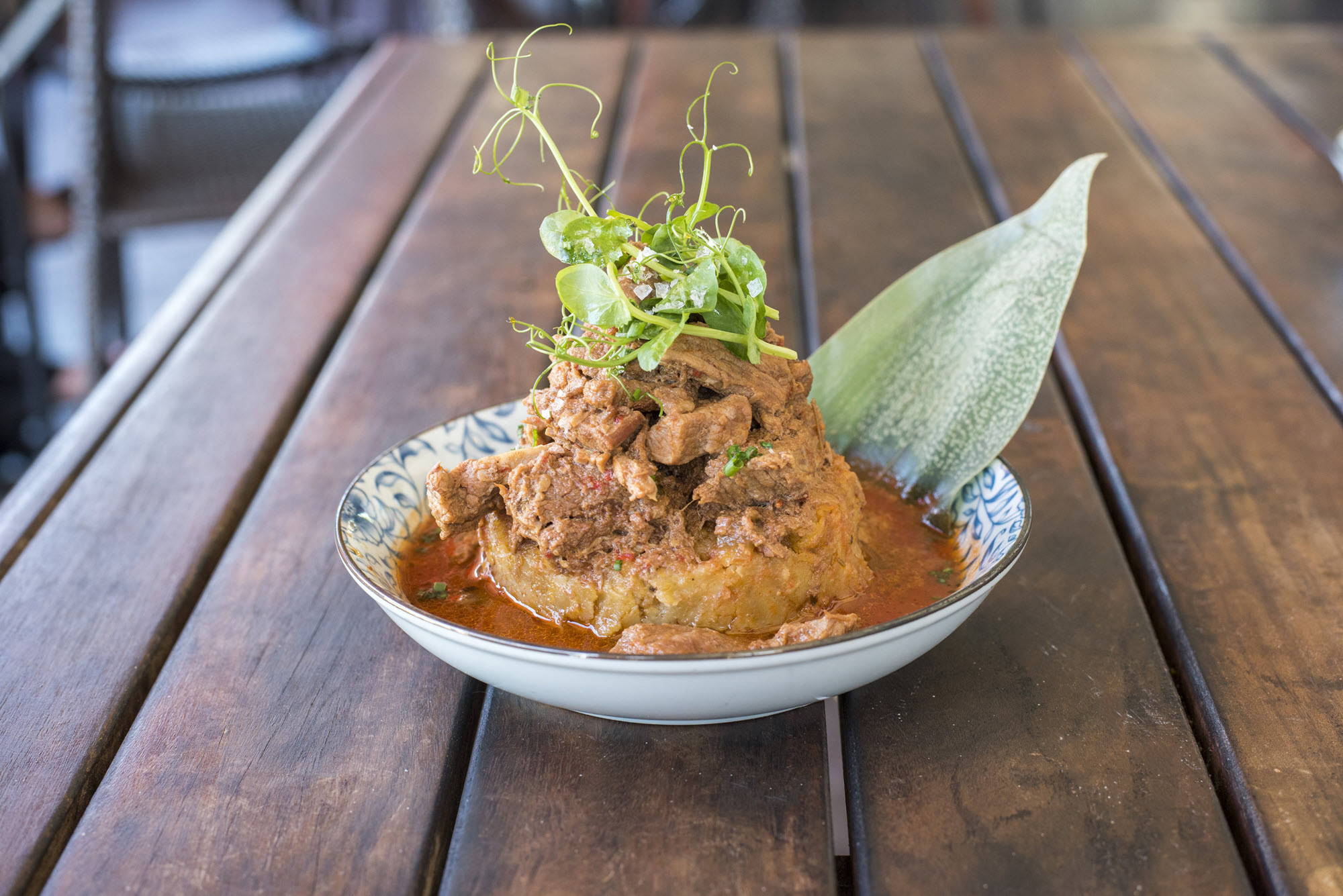 Cooking Time: 15-20 minutes
Ingredients:
4 Green Plantains
6oz Confit Pork Belly
2 tbsp Garlic Puree
4 tbsp Unsalted Butter
2 tbsp Olive Oil
Salt & Pepper to taste
Protein topping of choice (Kits come with Sofrito-braised Beef Carne Guisada topping)
Mofongo Cooking Instructions:
Using a deep fryer or sauce pot with oil, heat up until oil reaches a max temperature of 350F.
Fry the plantains and pork belly until golden brown and cooked through (approximately 7-10 minutes).
Remove plantains and pork belly from fryer and pat dry to remove excess oil.  
Using a wood mortar, add the plantains and pork belly followed by butter, garlic, olive oil, salt and pepper.  
Start smashing slowly to incorporate all the ingredients.  
Plantains must be hot and all ingredients must be well mixed to ensure a mash consistency.  
Mofongo is now ready to be served with the sofrito-braised beef.  
Open the Sofrito-braised Beef Carne Guisada package, heat on medium high until meat is heated through.
Serve meat on top of Mofongo y Buen Provecho!!
Coconut White Curry Lobster
Servings: 2
Prep & Cooking Time: 45 minutes
Ingredients:
1 lb lobster tails (VM)
1/4 cup fish or lobster stock
1/4 cup dry white wine (VM)
1/2 cup coconut milk
3 crushed garlic cloves
1 tsp minced ginger
1 minced shallot
2 dry Birds Eye Chili (can substitute with any dry chili)
2 tbsp White Curry Powder (VM)
1 lemon juiced
2 bay leaves (VM)
1 tbsp scallions
1 tbsp minced basil
2 tbsp Olive oil
1 tbsp butter
Salt & Pepper to taste
VM: Individual products available at Vecinos Market.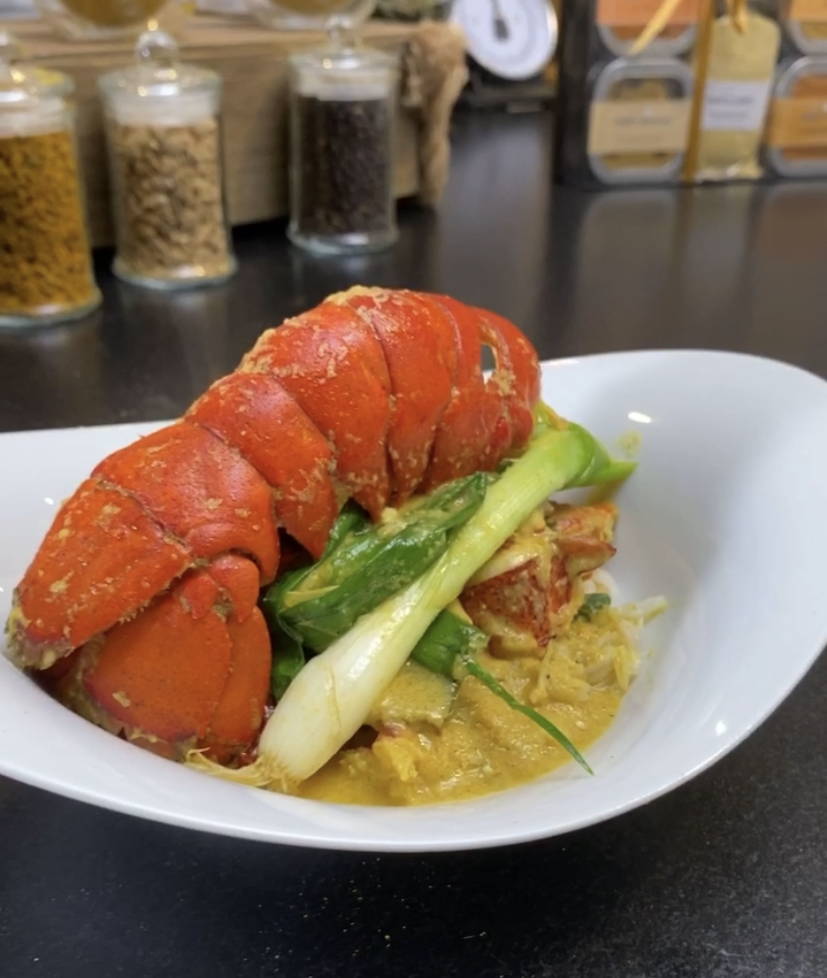 Note: Meal kits contain all necessary ingredients for recipe.
Cooking Directions:
Remove the lobster meat from the shell and set aside
Add olive oil to a sauce pan and saute the shallots, garlic, ginger, chili, bay leaves and lobster shells
Add the white wine and cook until wine is dissolved.
Add fish / lobster stock, curry powder, and coconut milk. Cook at medium heat for about 15 minutes.
Add butter, lemon juice, scallions and basil.
Season to taste with salt and pepper.
Add lobster meat and cook for another 5 minutes.
Little Neck Clams & Chorizo Braised in IPA Beer Broth
Serves: 4-6 people
Prep Time: 20 minutes
Cooking Time: 15 minutes
Ingredients:
50-60 Little Neck Clams
1/2 pound Chorizo diced
1/2 yellow onion diced
5 garlic cloves minced
1 leek minced
1 tsp Smoked Paprika
1 pinch Saffron
2 Bay Leaves
5 small Basil Leaves
1 tsp dried Oregano
1/2 cup fish stock
1 IPA Beer
2 tbsp olive oil
1/4 lb butter
2 tsp Sazon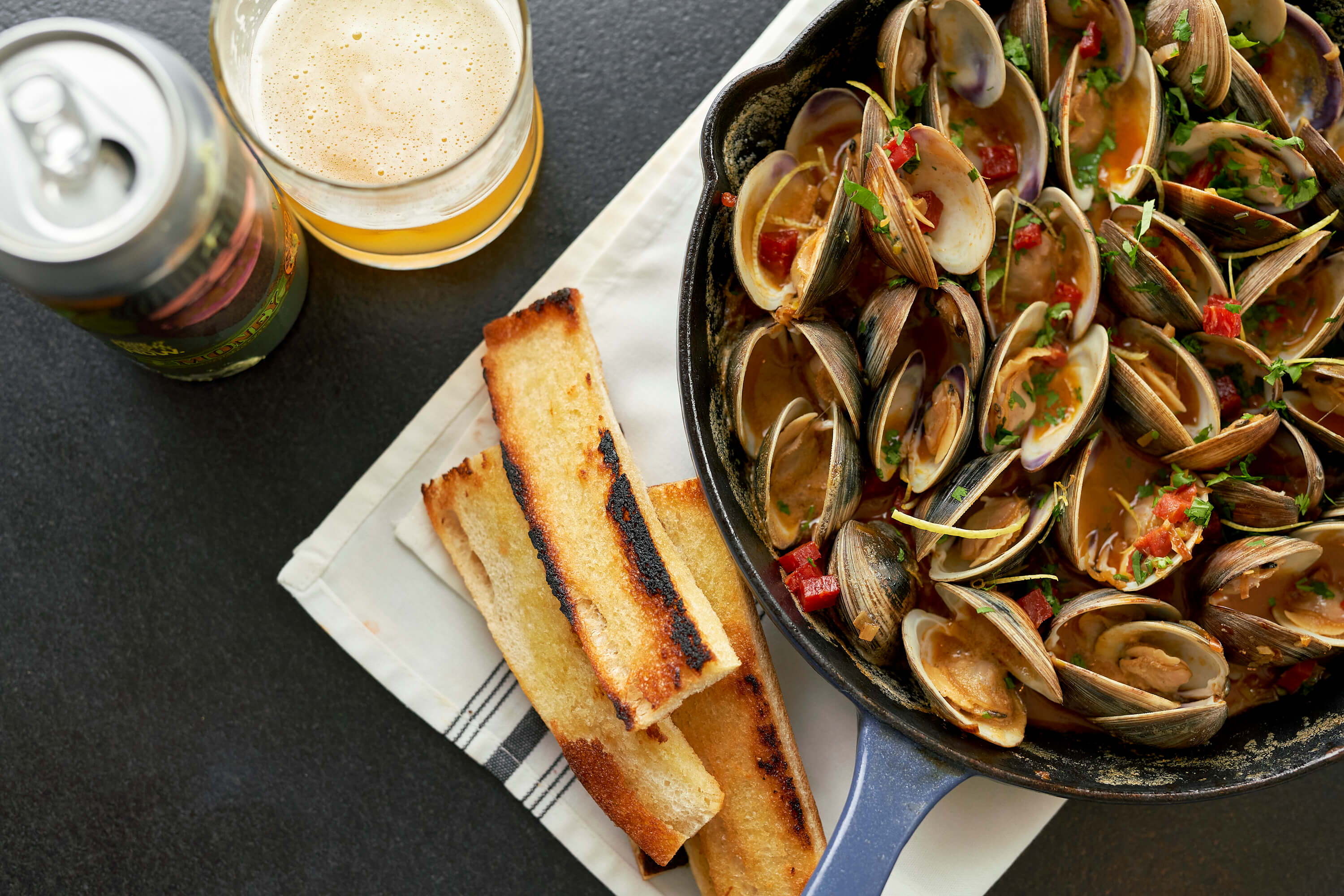 Cooking Directions:
In a large iron skillet, saute the onion, garlic, and leeks in olive oil
Add the bay leaves, oregano, chorizo, saffron, sazon, and clams and continue cooking for 2 minutes
Add the beer and cook for 3 minutes
Add the fish stock and butter and bring to boil
Cover and cook until clams are open
Top with basil leaves and serve with toasted bread
Barolo Poached Late Summer Peach & Burrata Salad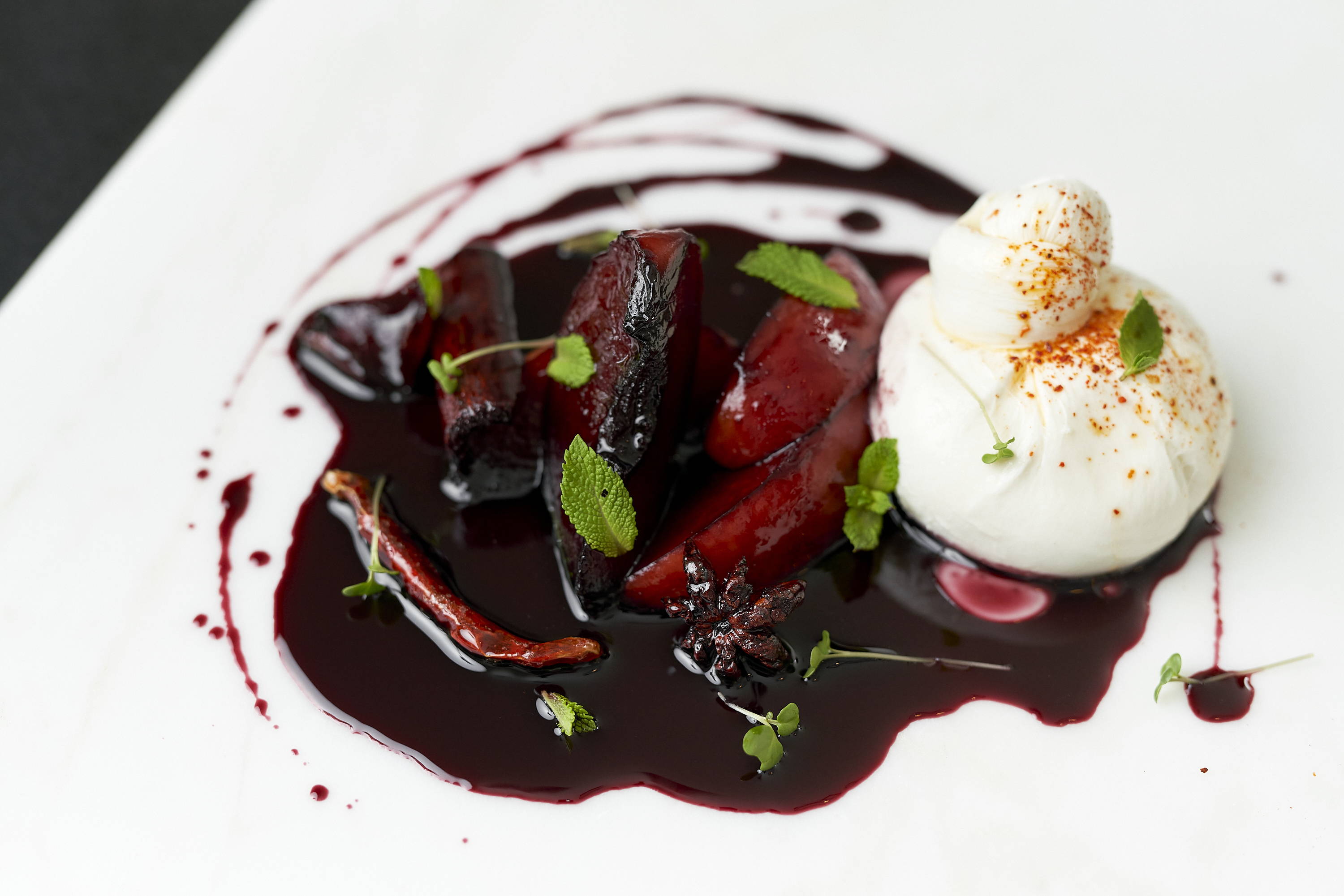 Servings: 4
Cooking Time: 45 minutes
Ingredients:
2 Peaches
1/2 bottle heavy red wine (VM)
2 tbsp Berry Sugar (VM)
1 Thai chili
1 pinch smoked salt (VM)
1 star anise
1 tsp green peppercorn (VM)
4 Burrata balls (VM)
2 tbsp raw honey
8 fresh mint leaves
Cooking Instructions:
Slice the peaches into thick wedges
Cook the red wine with the sugar, star anise, Thai chili, and green peppercorns for 10 minutes.
Add the peach slices and cook for another 10 minutes.
Let the sauce cool to room temperature and serve over the Burrata.
Drizzle with the raw honey.
Use mint leaves for garnish.